Welcome to stockholmviews.com
The Range Rover 4.6 HSE P38 OBD page

Diagnostic equipment for the Range Rover P38
A Review and some Information based up on my experience :0)


This review is now completed however content might be added over time and
suggestions are always welcome e-mail: admin@stockholmviews.com /Stefan

I bought my Faultmate MSV-2 Extreme when I got the first indications of the
quality or more correctly lack of quality in the electric and electronic parts and
installation in the Range Rover P38's

I just realized that even if the price of the Faultmate might look kind of high
it would pay for itself over time in the way it can help me to trouble shoot repair
and reset various systems of this fairly advanced car.


The MSV-2 Extreme at boot-up
The Faultmate MSV-2 hardware comes in two different flavors Nano and Extreme.
The Nano need to be hooked up to a computer for all tasks while the Extreme has
a built in display and buttons that make it possible to use as a stand alone unit
for fault code reading and resetting, however it still need to be connected to a PC
for advanced functions like reconfigurations etc the server/interface looks and feels
like the real McCoy in its nice blue anodized aluminum case.

Both versions of the MSV-2 interfacing with a computer thru a serial port interface
I find that strange for a product that was introduced in 2008. At this time most laptop
computers produced didn't even come with a serial port since USB had become the
new standard port for external computer equipment.

The good thing with the serial interface is that you can use an older cheep 2nd hand
Laptop PC in your garage as a dedicated Faultmate PC since the software for the
MSV-2 isn't that hardware performance demanding.

The Faultmate company BlackBox Solutions actually sell used Panasonic CF-27
Thoughbook laptops to be used with the Faultmate MSV-2, those CF-27's runs on
a sluggish Pentium III 500Mhz CPU and Win 98 but is still sufficient for car diagnostic
tasks and can be bought cheap.

Apart from the Faultmate MSV-2 Nano and Extreme there is a cheaper unit called
Faultmate FCR (Fault Code Reader?) a simplified unit that only can read and clear fault- codes and does not provide programing and adjustment features. However it read
a hwole lot more than just engine OBD data like most of the generic OBD-2 units
that can be found at e-bay etc.
The Faultmate FCR unit was available at 264 Euro for the P38 version 2010-12-20 and
this unit is also a single VIN/Vehicle licenced device.

Backside of the extruded aluminum profile case of the Faulmate MSV-2
If you allredy have a computer that you want to use and that computer lacks the
serial port it is still possible to connect it to the MSV-2 by the use of a Serial to USB
adapter which you can get from any PC- store, e-bay or Amazon.


A typical RS232 serial-USB adapter.


The Land Rover and Range Rover range of cars isn't the only vehicles that are covered
by the Faultmate MSV-2 it is also possible to configure it to work with various models
of Morgan, MG, and Rover's. A list of the cars that are covered at the moment


(Screen shots stitched together from Vehicle Explorer menu below)
Link to other OBD diagnostics equipment from Amazon.com
Review of the Faultmate MSV-2 Extreme, The Software

The Faultmate MSV-2 is a kind of server and this server need to be loaded with some
software to become operative. The software can be bought in separate modules for a
Singlel vehicle (VIN), Multi Vehicle single system modules or Multi Vehicle System
packages and can also be bought bundled with an Extreme or Nano server.

I went for the full single vehicle kit/package for my Range Rover P38 and the price for
that package ended up at 635 Euro including the MSV-2 Extreme server hardware.
If I had chosen the Nano server instead it would have been 572 Euro I could have
saved a few Euro's this way but not enough for me to compromise in function for.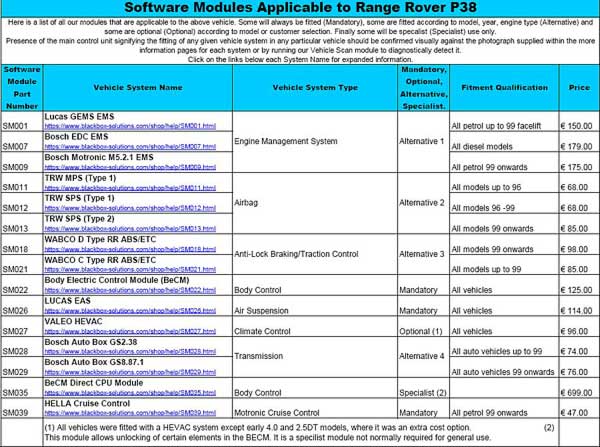 Above: All the available software modules for the Range Rover P38
(PDF)
The price in this table is for multi vehicle licencing at 11 December 2010
The complete pricing matrix is quite extensive and I will not try to cover all possible configurations in this review so if you
want to browse true all possible combinations I suggest you visit blackbox-solutions.com.


My kit contains most of the modules above except for the BeCM Direct CPU Module.
Your package might contain other fewer or more modules depending on your vehicle
specification, configuration and year.

MY SOFTWARE KIT:
SM009 - BOSCH MOTRONIC M5.2.1 ENGINE MANAGEMENT
SM013 - TRW SPS (TYPE2/P38 NRR) AIRBAG
SM018 - WABCO D TYPE (P38 NRR) ABS AND TRACTION CONTROLL
SM022 - BECM (P38 RR) BODY CONTROLL
SM026 - LUCAS EAS (P38 NRR) ELECTRONIC AIR SUSPENTION
SM027 - VALEO HEVAC (P38 NRR)
SM029 - BOSCH AUTO BOX GS8.87.1 AUTOMATIC TRANSMISSION
SM039 - HELLA CRUISE CONTROL

When you receive your new toy the hardest thing is to resist the reflex to instantly
start to play with it, DON'T. The first thing you should do is to get youself a cup of
coffe (or a pint of b...) take deep breath an READ THE MANUAL!

This way you will save you a lot of frustration since the registration and activation
process of this product is a bit of a pain in the a..s.

The above mentioned modules has to be identified by a initial vehicle scan procedure
that you performed with the Vehicle Explore and the MSV-2 server connected to your
car then the result of the scan must be sent to Black Box Solutions together with your TUP request code for verification. Then you get your TUP codes sent to you by e-mail.
You are now able to enable the system modules in accordance with the license you
bought, by entering the TUP codes in to the "Software module licence activation codes" page in the Vehicle Explorer.
Now you are finally ready to use your new maintenance buddy! ( I told you a pain in..)



When your MSV-2 hardware/software combination is fully configured and connected
to your vehicle it will (in case you bought the single vehicle license) read the VIN
number of the car and lock the MSV-2 to that VIN.



The VSE 011 code is a generic code for faults in the Faulmate system that is caused
by a missing software module in this case it was the Vehicle scan module that was
missing due to a mistake that I was responsible for myself (I had in fact deleted it)
problem was easily solved by reloading that software module.
The user forum is a greate place to find help and to solve issues like this, it is also
a great place to start when you are looking for maintenance advises in conjunction
to fault codes found by Faultmate MSV-2 / Vehicle Explorer


Various typical system readouts

Above: Information readout from the Motronic engine control and management unit
that is fitted in my Range Rover 4.6 HSE -99 (Thor engine equipped) click image to magnify.



The EAS height sensor readings. When you do a readout in the Vehicle Explorer
software it is possible to save the readout as a regular html file this file can later
be edited and loaded in to the unit again in this file it is possible to adjust the ride
height at all the different ride modes. (Click here to open my original file, the try to
edit the settings). This way it is easy to keep a different suspension profile for your
Sunday ride and another for off road fun and be able to load/change at any time within a few minutes :0)



Below all the possible interactive test that can be performed on my BeCM

(Split up in 4 dropdown for space saving sinc there is a lot)
BeCM-1
Conte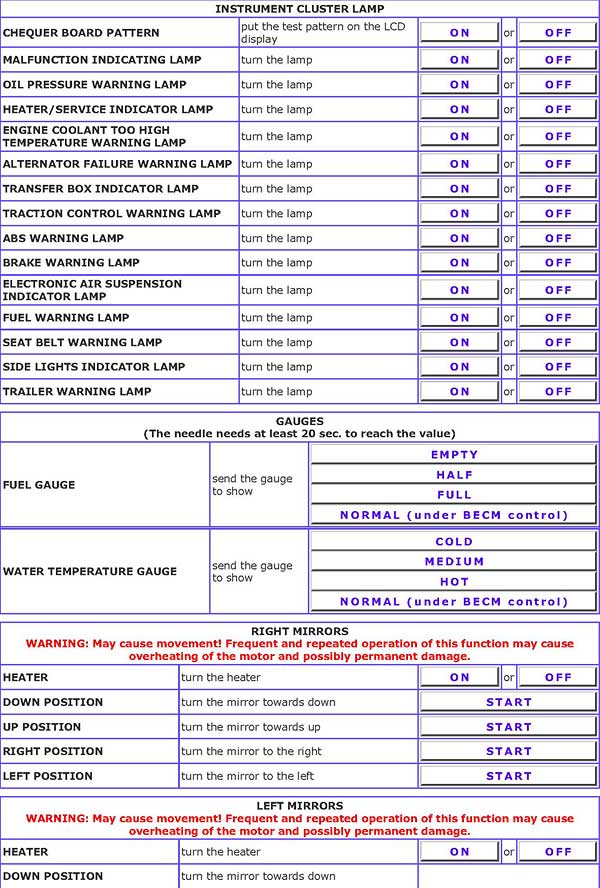 BeCM-2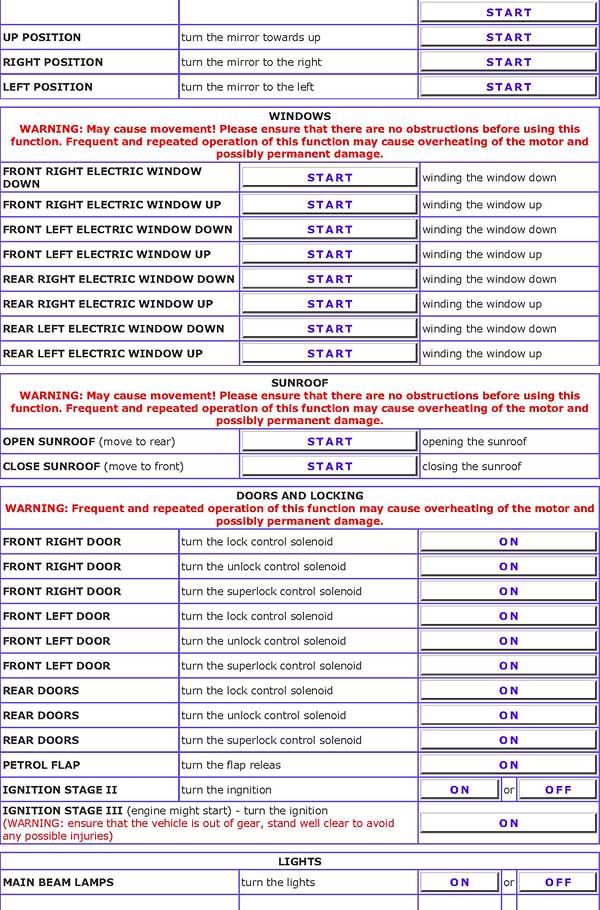 BeCM-3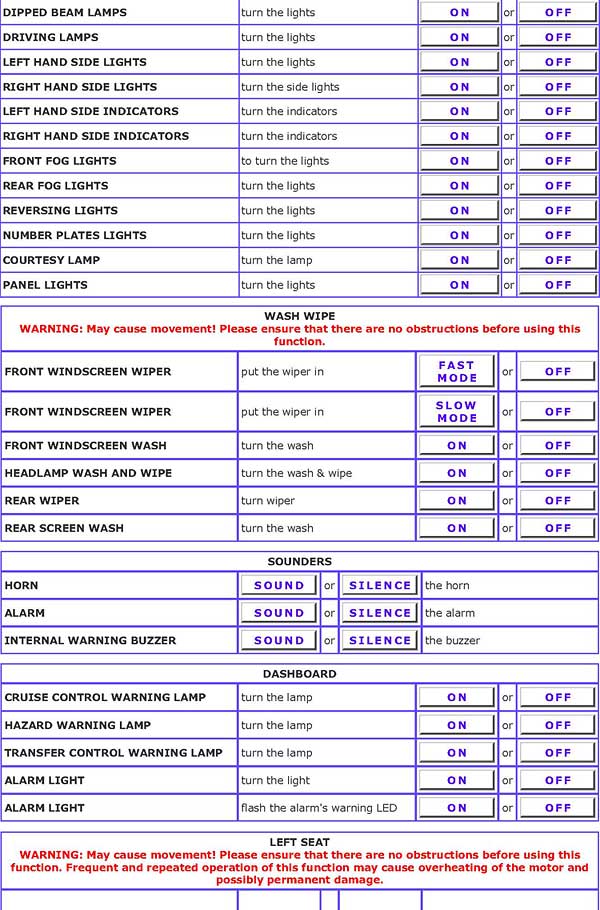 BeCM-4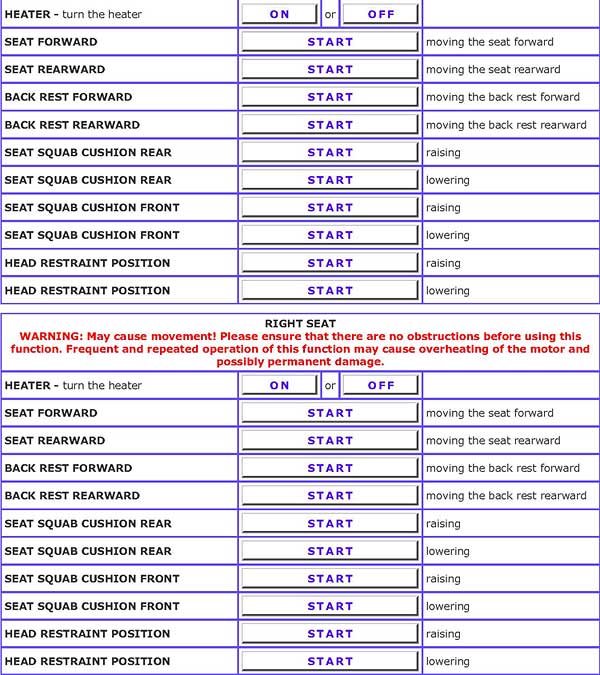 HEVAC Fault codes an trouble shooting.
The HEVAC (Heating Ventilation and Air Conditioning) system might be the single
most annoying fault source in a Range Rover P38, this system was the reason why I
bought my Faulmate MSV-2 it gave me some help but didn't replace my own and
other RR owners experience. The service manual and lots of forum reading was also
helpful and as I develop my P38 pages I will also try to help! [My HEVAC section]


It is also possible to record live data as an .avi movie for later analysis or to share
and compare with other results watch the flash movie below to get a feeling of how
it works, the movie is from the HEVAC live view data.


I will list some of the many faultcodes that can be show by the MSV-2 when you scan
your Range Rover P38 HEVAC.
POSSIBLE FAULT CODES VALEO HEVAC (P38 NRR)
(2) THE HEATED FRONT SCREEN SHORT CIRCUIT TO GROUND.
(5) HEATER CORE TEMPERATURE SENSOR CIRCUIT SHORT TO GROUND.
(9) L/H BLEND MOTOR SHORTING TO POSSITIVE.
(14) THE DISTRIBUTION MOTOR IS SHORT CIRCUIT TO POSITIVE.
(16) THE DISTRIBUTION DOOR MOTOR POTENTIOMETER IS FAULTY.
(17) THE DISTRIBUTION MOTOR FEEDBACK CIRCUIT IS FAULTY.
(18) LEFT RECIRCULATION VENT MOTOR SHORTED TO NEGATIVE.
(19) LEFT RECIRCULATION VENT MOTOR SHORTED TO POSITIVE 12v.
(20) RIGHT RECIRCULATION VENT MOTOR SHORTED TO NEGATIVE.
(22) RIGHT RECIRCULATION VENT MOTOR SHORTED TO POSITIVE 12v.
(24) RIGHT HAND BLOWER MOTOR STOP MODE FAULT.
(25) RIGHT HAND BLOWER MOTOR LOW SIDE OF REGULATION CIRCUIT FAULT.
(26) RIGHT HAND BLOWER MOTOR HIGH SIDE OF REGULATION CIRCUIT FAULT.
(28) LEFT HAND BLOWER MOTOR STOP MODE FAULT.
(29) LEFT HAND BLOWER MOTOR LOW SIDE OF REGULATION CIRCUIT FAULT.
(30) LEFT HAND BLOWER MOTOR HIGH SIDE OF REGULATION CIRCUIT FAULT.
(32) COMPRESSOR CLUTCH CONTROL CIRCUIT OPEN OR SHORT TO GROUND.
(39) AIR CONDITIONING REQUEST CIRCUIT SHORT TO POSITIVE 12V.
(44) AMBIENT TEMP SENSOR SHORT TO GROUND.
(46) ASPIRATOR (IN CAR) TEMPERATURE SENSOR CIRCUIT SHORT TO GROUND.
(48) EVAPORATOR TEMPERATURE SENSOR CIRCUIT SHORT TO GROUND.
(50) HEATER CORE TEMPERATURE SENSOR CIRCUIT SHORT TO GROUND.
(51)
(55) DISTRIBUTION DOOR MOTOR STALLED DURING SELF CALIBRATION.
(?) LEFT BLEND DOOR MOTOR STALL POSITION FAULT
(?) DISTRIBUTION MOTOR STALL POSITION FAULT"

Send me some more of codes if you have them :0)


How to work with the Faulmate MSV-2 and Vehicle Explorer

To the left you can se the menu in the Vehicle Browser showing
the systems that we can interface with thru the Faultmate MSV-2
server. ABS and TC (Traction control), BeCM, EMC (Engine management computer), HEVAC, EAS, and Transmission etc.

In all those systems we will be able to read and reset fault codes.
In some of the modules we will also be able to interface with
various parts of the system for instance get fans to start and stop
windows to go up and down. In other modules like the EMS we will
be able to read live data from the engine and during operation get
temperatures engine RPM etc.
And in some of the modules like the EAS we will be able to modify
the settings and load them in to the control box to adjust the ride
height.


Menue to the left shows the P38 Systems.
The first time you hook up the fully configured Faulmate MSV-2
to your car it will probably find several stored fault codes, at this
stage just save the stored faults to a folder on your computer and
then simply reset the old stored faults that in fact might not be a
present problem.

Now drive your car for a while and then hook up the MSV-2 again to
make a new reading to find out which if any of the faults that are
real and present faults.

Now it is time to try to understand the fault diagnostic readouts.
At this point it is to a great help if you have the vehicle service
manual available, in the case of a P38 this would be the RAV
manual. The MSV-2 can however be useful even without the service
manual but then you need even more experience of car maintenance
and repair (You will probably get lots of experience over time, you own a Rangie after all :0)

Apart from trouble shooting the MSV-2 is also useful for various kind
of customizing. You can for instance change the air suspension ride
high of your P38 and on other vehicles you will also be able to
change other things like the fuel mapping on some cars (Not on P38's)

The MSV-2 will not solve all your problems and will not be the
solution for people without any knowledge about car repair and
maintenance, this is not a repair tool that replaces the spanner and
common sense, but it is a tool that will aid you in the trouble-
shooting stage of the repair.

The MSV-2 will be able to diagnose most of the electrical and
electronic systems of your vehicle but it will not tell you about
mechanical faults (Unless electronically monitored).

For instance if a air valve (flapper door) in the HEVAC system doesn't
move the MSV-2 wouldn't be able to tell if the valve door is stuck in
the duct or in the servo motor gearbox. Such things must be
diagnosed in another way.

To take full advantage of this competent diagnostic device it is
necessary to learn to understand how the various systems work
and the best way to do that is to put the repair and service manual
on the night table and read some pages each night, this might be
the best night time reading material you ever bought since you
love your RR and love to take care of it, right?


The Bible Bentley Publishers
Range Rover Official Workshop
Manual: 1995-2001 might be your
best investment and a great help
for all DIY mechanics.

I like prefer a book to a electronic
manual like the RAV since it is
easier to brows a book than a large
PDF based manual, but when I need
to bring the manual with me out in
the dirt and grease I usually make
some prints from the RAV that I can
dispose after use.

Much help can also be found in
any of the many Land Rover forums
that can be found on the net.

rangerovers.net is one of the best



Some of the fault codes that I have experienced
THE EAS CONTROL UNIT'S FAULT CODE MEMORY CONTAINS CODES FOR THE FOLLOWING FAULTS -:



REAR RIGHT VALVE IS PERMANENTLY CLOSED.



"This message did occure when I had a major leak in the rear air spring, the EAS control unit shuts
the valve to protect the EAS compressor from being over heated due to to high air flow demand"

THE HEVAC CONTROL UNITS FAULT CODE MEMORY LOG CONTAINS CODES FOR THE FOLLOWING FAULTS -:

(17) THE DISTRIBUTION MOTOR FEEDBACK CIRCUIT IS FAULTY.
(24) RIGHT HAND BLOWER MOTOR STOP MODE FAULT.
(28) LEFT HAND BLOWER MOTOR STOP MODE FAULT.
(32) COMPRESSOR CLUTCH CONTROL CIRCUIT OPEN OR SHORT TO GROUND.
IT IS ALSO SHOWING THE FOLLOWING CODES AS BEING CURRENTLY PRESENT -:
(24) RIGHT HAND BLOWER MOTOR STOP MODE FAULT.
(28) LEFT HAND BLOWER MOTOR STOP MODE FAULT.

"Loads of HEVAC faults at my first scan, it is a good practice to first save the scan result to a file and then just simply reset all
faults. Then run the system for a while and then do a new fault readout to find out if the fault was intermittent or persistent."



THE HEVAC CONTROL UNITS FAULT CODE MEMORY LOG CONTAINS CODES FOR THE FOLLOWING FAULTS -:
(17) THE DISTRIBUTION MOTOR FEEDBACK CIRCUIT IS FAULTY.
IT IS ALSO SHOWING NO FAULT CODES AS BEING CURRENTLY PRESENT.

"Typical intermittent fault caused of corroded blend motor harness contact or bad position feedback potentiometer inside the
blend motor assembly or circuit board problem in HEVAC control unit or.... "


THE HEVAC CONTROL UNITS FAULT CODE MEMORY LOG CONTAINS CODES FOR THE FOLLOWING FAULTS -:
(12) THE LEFT HAND BLEND MOTOR POTENTIOMETER FEEDBACK CIRCUIT HAS FAILED.
(17) THE DISTRIBUTION MOTOR FEEDBACK CIRCUIT IS FAULTY.
IT IS ALSO SHOWING NO FAULT CODES AS BEING CURRENTLY PRESENT.

As you can see not even a diagnostic system this advanced can pin point the fault
in all or even most situations but it helps to point you in the right direction.
I don't say that you can't work with your P38 without the help of a Vehicle diagnostic
system but it will for sure save you a lot of time.


Transferring or change of owner license or simply buying another car

I asked the Black-Box Solution staff about wath if I decide to sell my MSV-2
and got this answer.


"Good morning Stefan

If you ever decided to sell the MSV-2 all we would ask is that you inform us so that
we can send you a Transfer of Ownership form which you complete and return to us.

Once the new owner registers the unit and the information matches the details you
have provided, then the new owner will have the same access as you currently do.

They would pay a small admin fee to transfer the codes to the new VIN of their
vehicle or if a different model, purchase the new software.

In the case of you selling your vehicle but obtaining a different model Range Rover,
you would inform us of the new vehicle. If the replacement vehicle was one of the
same model or similar as the current then you would just pay a small admin fee to
transfer codes to the new one.

If the vehicle was a newer model then you would receive a 50% discount on
the cost of the new software against your old software pack.

Kind Regards"


Faulmate MSV-2 by BlackBox Solutions the Pros and Cons

+ Built quality at a very high standard.
+ Free software updates of your licenced modules.
+ Can be used with a cheap old PC running Windows.
+ Support forum where you can interact with other Faulmate owners.
+ For now this is the P38 diagnostic system that give best value for money.


(Probably the only full capability diagnostic system within reach for my wallet).




- Windows only

(Might be possible to run on Linux in Windows emulator but I have not tried that).


- Complicated licensing and activation procedure that might be a problem for
buyers that doesn't have a bit more than basic computer knowledge.


(In fact many of the software cracks found on the internet is easier to use!)


- A bit expensive even if it is cheap compared to most competition.
- There have been some complains regarding customer support.


(Not my experience but I have not needed any support yet).


- Support forum only open for registered customers that bought a diagnostic device.
And don't forget to get

The Faulmate will not replace your basic kit of fault isolation tools you will still be
needing the following things to be able to work effectively with your Rangie!
Fortunately those things can be bought quite cheap :0)
A digital multimeter is the most important thing to get.
Make yourself a few test bulbs (Different bulbs for different loads with wires and croc clamps to be able
to simulate loads, this can be useful for relay contact resistance testing)
Use some old relays and relay sockets to make some relay brake out boxes.


Various Diagnostic equipment and Faultmate information and resources

Documentation instructional videos pricelists and other usefull information regarding
all BlackBox Solutions products can be found [HERE]

VIN=Vehicle Identification Number
OBD links
Alternative diagnostics equipment

The most interesting thing in diagnostics equipment for us P38 owners is the
ROVER ALL COMMS project by rswsolutions.com I have been in contact with
them and asked for a review sample (loan) so that I can validate this new and
promising product. Hopefully this product will be free from crippling and bought
as a full diagnostic system without annoying single VIN licensing but still at a
price tag that is within reach for us hobby mechanics :0)

Already available and as a freeware its the EAS unlock suite by rswsolutions this
software is almost as capable as the Faultmate MSV-2 when it comes to EAS
trouble shooting and maintenance, the simple interface needed can be home built
or bought cheap and contains nothing but two contacts and some wires.

There is of course the mighty Testbook 4 but that one is to expensive so I
consider this is a workshop tool only.

There is also a scan tool called Bearmach HAWKEYE Land rover Diagnostics Tool
this is a tool that cover most systems in Land and Range Rovers however it
doesn't cover the HEVAC on the P38 which is an important area so it get
disqualified for my use because of that!

AutoLogic is another company that offers diagnostic equipment for Land / Range
Rover vehicles but this one also get disqualified due to the price tag that is way
over the top for us DIY people.

The Launcher x431 is another PRO diagnostic tool that have some but not full
diagnostic capability for the P38 and other Land Rover models however at about
2900 Euro it is ruled out by its price just like most of the other Faultmate
competition.

A Generic OBD-2 interface from e-bay or Amazon.com + free or open source
software can be useful for engine related diagnostics but can't take you further
than that in regards of the P38's other systems.


Send me an e-mail to exchange links. e-mail to - stockholmviews[at]gmail.com
Free hosting & domain name. 1000MB and .com or .co.uk domain free for 1 year.
Limited time only. Check www.one.com for more details