Always a bit daunting to start something new, never know where to begin, in the end I procrastinate for hours debating how to start, where to go, etc, etc. So for my first post, why not start off with a camera craft of sorts.

I was very fortunate last year to be given an old Seagull TLR from my Uncle. I took many pictures over the past year, learning to develop the BW ones myself even. However this spring when I realized the shutter speeds weren't overly consistent, I jumped onto ebay and found the deal of the century on a Yashica 124G. Was I hasty in my dismissal of my free camera? Probably, but I can't really complain about the Yashica either.

Anyways, back on topic. I have always wanted (lusted for) a panoramic camera (preferably a Hasselblad Xpan if anyone is interested in buying me a present). However a brief search made me realize that these gems of cameras cost in the thousands of dollars! There had to be an easier way. I've tried the crappy 35mm "panoramic" cameras that simply apply a mask over the top and bottom of the neg and give you a panoramic picture, however the neg is also a 1/3 of the original size, and lots of film gets wasted. Then I had my epiphany, why not insert a mask into the Seagull in order to take horizontal panoramic pictures? It uses 120 film so if I had a 25mmx60mm mask, I could take 24 panoramic pics/roll.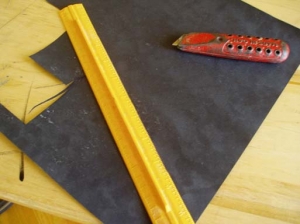 I looked on ebay and low and behold you can buy a 6×3 mask, but they cost $95! So, armed with some black construction paper I found lying around the house and an exacto knife, I set to turn my Seagull TLR into the Pan-O-Gull (or Seagullorama, they both sound catchy…). After cutting out the mask and inserting into the back of the camera, I then created a similar mask to lay on top of the ground glass. By making it just the right size, I was able to not have to worry about attaching it to the glass in any way.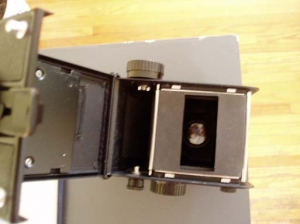 Next, I grabbed an old paper backing from a 120 format film (Ilford). Upon inspection, the first set of circles leading up to the number on the back of the paper is approximately in the middle of the standard 6×6 frame. With this in mind, I purchased a roll of Ilford FP4+ (ISO 125) and set off to take some pics.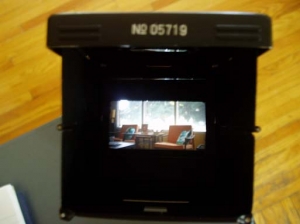 Not to sound pessimistic, but I was pleasantly surprised when all 24 shots turned out (ok I did forget to focus one of them…). While technically not officially panoramic (most people define this as a 2.5:1 ratio, mine are 2.4:1) they are still pretty good IMHO. The other difference is pano cams generally use fairly wide angle lenses, whereas mine with the cropping is more of a telephoto lens, an effect I quite like. You will notice some vertical lines on the negs, I believe they got scratched inside the camera, and not because of the paper mask.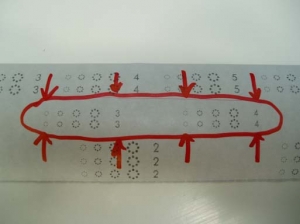 Has it cured my panoramic lust? No. In fact it has increased it, and I find myself trolling ebay ever more for the elusive "cheap" Xpan. One day it will be mine, oh yes…

Dave Bradley