My opinion about the Hasselblad Xpan:
The camera is surprisingly compact considering the fact it is a panorama camera.
In my hand the Xpan feels solid and a bit heavy. It definitely has a feel of quality.
Camera controls are easy to use and understand.
A spirit level can be installed in the flash shoe. I strongly recommend using the level
when shooting panoramas with this camera, a small tilt during exposure will ruin the picture!
The viewfinder is bright with a white frame that is perfect for the 45 mm lens.
The viewfinder has no information of shutter speed or aperture. This information
shows on the display at the backside of the camera. This is not a problem when you
use the camera on a tripod but a bit annoying when handheld. This is a flaw that was corrected on the second version of the camera, the Xpan II.
The compact size of the camera makes it possible to use the Xpan handheld during
daylight conditions. A large format 6x17 camera would be tricky (not recommended)
to use handheld. The attachment for mounting the camera on a tripod is located far to
the left under the body. I found this weird in the beginning, it works for me but requires
a stable tripod.
A bracket that could be installed under the camera moved tripod attachment to the
center and was sold as an accessory by Kirk Enterprises.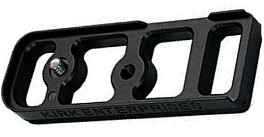 3rd part maker Kirk make this plate that moves
the tripod thread to the center of the Xpan body
The center weighed light metering is very accurate. Most of my images have been
correctly exposed in the Auto (aperture priority) mode.
However in low-light conditions with exposure times of 1 second or longer my camera starts to underexpose, both in Auto and Manual mode.
In these conditions I always check the light with a digital camera as light meter
and then calculate correct settings for my Xpan.
I haven't heard others having this problem so I believe it is my camera that
is due for maintenance.